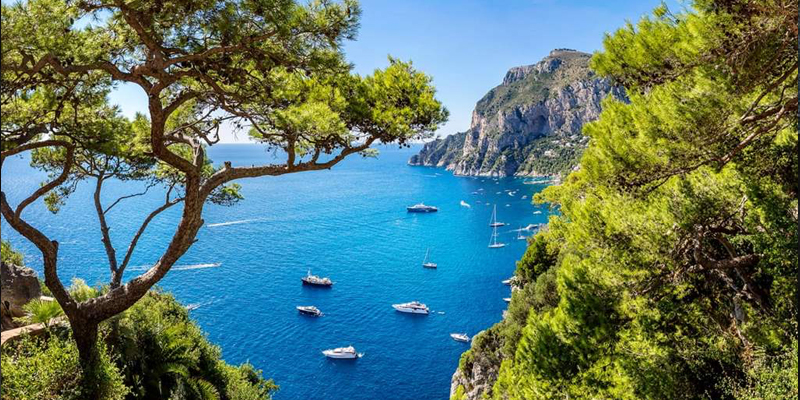 Magnificent Mediterranean pearl, Capri Island charms today, as in the past, its many visitors, often prestigious, who arrive every year, from all over the world, to admire its beauty . The island, whose surface is of about 10 km2, is characterized by a rugged coastline with many caves and bays, alternating with steep cliffs. Do not miss the tour of the island by sea, ( come and discover our Capri Tour) a fantastic journey to discover the natural treasures of Capri.
THE TOUR OF THE ISLAND BY SEA
A cliff overlooking the sea, on top of which are the ruins of the Villa of the Roman Emperor Tiberius (Villa Jovis), otherwise known as Tiberio's Jump, inaugurates the wonders, embellishing the Capri coast. Then we find the beautiful White Grotto, decorated with stalactites and stalagmites, giving to the visitors, from their majestic location, magical illusions. Continuing the tour of the island by sea and looking towards the top, you can admire the famous Natural Arch, a breach in the rock, what remains of a large cave, removed from the sea because of the island's raising, in the Paleolithic era. The famous Villa Malaparte dominates, with its red colour, a narrow rocky promontory. The Villa owned by the famous writer of the twentieth century, Curzio Malaparte, is a masterpiece of the modern architecture. Rise from the sea in all their magnificence the Faraglioni, the three small rocky islets most famous in the world, became the symbol of Capri. On the southern side of the island, appears in all its charm the beautiful coastal area of Marina Piccola. The Green Grotto is another of the famous caves of Capri, characterized by its magnificent emerald waters. Punta Carena is the name of the promontory, located on the southwest coast of the island of Capri, dominated by one of the biggest Italian lighthouse. The last stop, before arriving to the Harbour of Marina Grande and certainly among the most famous wonders of Capri, is the Blue Grotto. Used in Roman times as a nautural private swimming pool of the luxurious Villa of Tiberius (Villa Damecuta), the Blue Grotto is a beautiful attraction characterized by the wonderful colors of its waters and by a very small entrance, which requires a very particular and skillful maneuver of the native boatmen, introducing visitors to the grotto by using very small rowing boats.
MALE MALE! abbiamo prenotato questo mini tour incoraggiati dalle recensioni positive...(che ora capisco sono perlopiù per i posti visti). Ovviamente la mia recensione valuta il servizio...e il servizio non c'è... read more stato. Siamo saliti sul gozzo e abbiamo fatto questo tour di 4 ore in assoluto...Più

Martina C


1 August 2018