A magical and romantic atmosphere is the essential ingredient to make your wedding day truly special!
The sea and the amazing coast landscape will be able to give you a unique emotion and atmosphere, which will always accompany the memory of the most beautiful day.

Theme:
Personalized private tour

Number of Passengers:
Maximum 10 people

Boat Model:
Typical Gozzo Sorrentino
of 10 mt.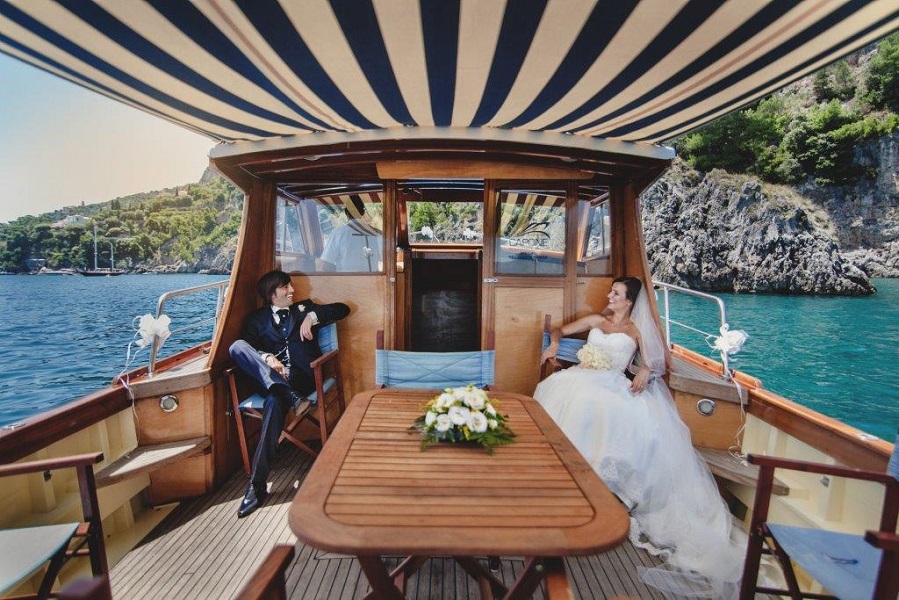 Wedding Minicruise
By brushing by the most romantic and uncontaminated Amalfi Coast corners, you will have the unique chance to guarantee you a very unforgettable and magic sea experience, to realize very unique weeding photos. The soft and elegant decorations together with the comfort of our exclusive boats will be the special corner to your unforgettable wedding mini cruise and to your dream photos, wherein you and the beauties of the sea and of the Amalfi Coast will be the only stars.
This is the result that we got on Tripadvisor!
MALE MALE! abbiamo prenotato questo mini tour incoraggiati dalle recensioni positive...(che ora capisco sono perlopiù per i posti visti). Ovviamente la mia recensione valuta il servizio...e il servizio non c'è... read more stato. Siamo saliti sul gozzo e abbiamo fatto questo tour di 4 ore in assoluto...Più

Martina C


8/01/2018

Mini crociera (2 adulti 2 bambini 1 neonato) bellissima. Seconda volta che ci andiamo è sempre perfetta. Barca comoda, servizio preciso, giro studiato bene. Skipper disponibile e professionale. Costo direi... read more giusto. Da ritornaci e da fare se siete in Costiera. Ps la costiera dal mare...Più

Renato T


9/15/2018
Check availability




or ask for more info.
The best of the Amalfi Coast, Sorrentina, and Capri.
A very original and exclusive catalogue of daily and nightly excursions, absolutely unique experiences, to discover the magic of the most amazing Amalfi Coast, Sorrento Coast and Capri corners.