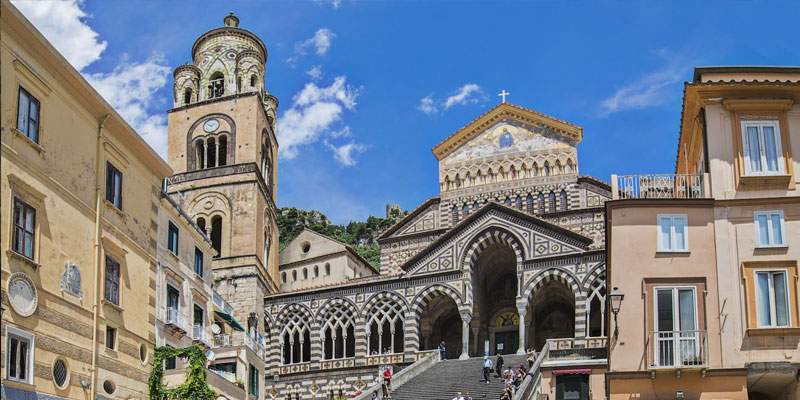 Located in the heart of the Amalfi Coast, Amalfi is one of the most famous town of this area, taking its name from it. Amalfi is well known for its glorious past of Ancient Maritime Republic and for its flourishing encounter with the Oriental and Mediterranean people, that is reflected in the mix of styles, characterizing his cultural, artistic and architectural assets.
The charm of the city also lies in the extraordinary beauty of its western stretch of coast, enriched by beautiful uncontaminated bays, small grottos, like the romantic Lovers Grotto, and wonderful natural treasures, like the Natural Arch. Every week is available on request an extraordinary Minicruise along the Coast, during which you will have the chance to enjoy so unforgettable beauties.
Do not lose the special event on June 27. In occasion of Saint Andrew day, Amalfi hosts, in fact, a special celebration, ending with a magnificent firework show in the sea.
Do not lose our Night Excursion on June 27th.
La barca è carina e ben tenuta, ma il giro non ne vale proprio la pena. Vedi velocissimamente l'Arco degli Innamorati, 10 minuti di bagno a Conca dei Marini e... read more poi ti portano a Positano, dove si può andare in pullman o in traghetto per...Più

romidab


12 June 2018